8 Reasons to Buy "MIRABLE"
Ultrafine Bubbles(UFB), Mirable mist contains 20 Millions of bubble in 1cc.
Mirable mist is perfect for facial cleaning, UFB will bring smooth and freshen feeling on your skin.
Mirable gives you head spa function, UFB will wash out dirt and do scalp care.
UFB will reach deep into pores and clean your skin.
Mirable will give you water saving effects, around 50% saving by using mist flow.
Mirable will bring moisture to your skin, moisture content 8% increase.
Mirable will give you warm bath effect, you may feel warmer than using ordinal shower head.
Easy installation, just replace from existing shower head.
Product Details
Products weight: 600g
Packaging size: 12.5 x 25.0 x 7.0cm
Product Description
Mirable shower head creates 0.13μm size of 20 Million Ultra Fine Bubbles (UFB) in 1 cc water. UFB brings Moisturizing, Warm Bath effect, water saving as well.
Size comparison between hair, hair pore, Ultra Fine Bubble (UFB)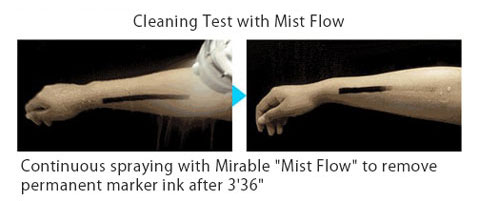 Air mixed ultra fine bubbles washed out dust particle. Mirable is mostly suitable for sensitive or delicate skin, sebum stain.
Mirable Plus showerhead brings 20 Million of 0.13µm size Ultra Fine Bubble(UFB) in 1cc of its Mist Flow mode. Meanwhile for 1cc of Straight Flow, it has 6,000 30µm size micro bubbles. As you see in the graphic, Skin Pore size are approx. 100-300µm while the Hair has about 80µm. Indeed UFB is much smaller than the hair and also the skin pore.
Definition of Ultra Fine Bubble(UFB): The bubble size shall be smaller than 1µm which was defined in ISO/TC281.
Mirable is FBIA (Fine Bubble Industries Association) registered and approved product.
Tornado Stick filter removes Chlorine from tap water and improve skin texture condition.

Tornado Stick comes with Calcium Sulfite that removes remaining Chlorine from tap water.

Mirable Plus has been developed to restrain Chlorine stimulation to skin texture.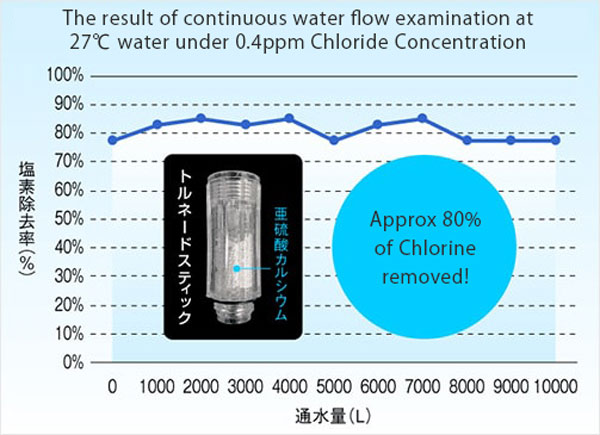 *Calcium Sulfite (CaSO3) has an inorganic compound which is safe and widely used in ordinary water purifier as a reducing agent to remove Chloride Concentration.
*We recommend to replace Tornado Stick every 3 months.
Budget friendly with 50% Water saved
Newly developed "Air Mixture System" significantly save water consumption compares to the ordinary showerhead under the same water pressure condition. "Straight Flow" saves approx. 25%, "Mist Flow" saves approx. 60%.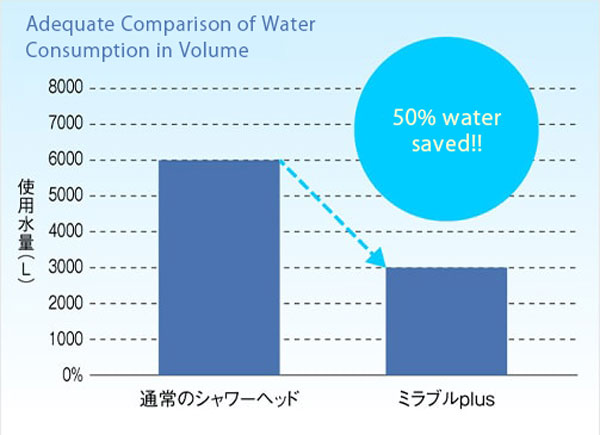 How to install Mirable Plus
Easy in Installation:
Tornado Stick is attached to the Mirable showerhead to replaced existing showerhead. (G 1/2" size).